Caregivers, such as nurses, doctors, and hospital workers, are often so busy caring for others they seldom think about taking care of themselves. This is precisely why giving the gift of massage to the caregiver in your life could be the best gift ever!
Massage administered to hospital patients is a fairly common practice.  Most hospitals have an in-patient massage program. According to research conducted in January 2017, 82 percent of hospital patients claimed massage therapy was the most helpful form of hospital therapy.
So, that helps the patients in hospitals, but what about the caregivers?
The Benefits of Massage for Caregivers and Hospital Workers
Massage offered to hospital staff usually consists of 10- to 20-minute chair massages on the hospital floor or unit. This is great for alleviating stress and tension. While this is an extremely beneficial service, many people who work long hours on their feet need more personal massage therapy. A longer, full body massage can target specific areas of tight muscles and pain.
The benefits of massage therapy for caregivers are twofold; the physical benefits and the mental benefits. Caregivers are wired to think of others and be concerned about their health and comfort. To have an hour or 90 minutes where they get to concentrate on themselves and receive care is invaluable. Not only will they experience the physical benefits of being able to do there jobs better, but they will have the mental capacity to keep caring for those that need them.
Nurses: On their feet for long hours and having to cope with ever-increasing patient loads, demanding schedules, paperwork, follow-up, and other responsibilities can exact a heavy toll on nurses. Work-related stress and related symptoms is often the result.
Many research studies have been conducted that demonstrate the effectiveness of massage therapy for chronic low back pain – a condition affecting millions of Americans, including nurses.
Researchers found that patients receiving massage were twice as likely as those receiving usual care to report significant improvements in both their pain and function.
Doctors: Like nurses, doctors work long hours and are on their feet most of the time. Emergency room doctors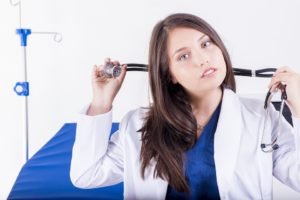 work in a high-paced, high-stress environment. Surgeons have to have a lot of stamina for long operations and follow-up consultations. Doctors experience mental stress and physical strain too. Doctors use fine motor skills all day, much like a computer worker.
Hunched shoulders
Stooped back
Cramped hands
Tired feet
Aching back
Physicians are very good at knowing what their patients need, however, they may not follow the same advice for themselves.
Remind a caregiver you know to take time for themselves. Go one step further and give the gift of massage and wellness to those who give us so much.
Everyone needs to take time for themselves. However, we often forget how important it is in order to be the best versions of ourselves for others.
Purchase a gift certificate or book a massage today! Call All Body Kneads at 517-898-2899