Are you experiencing an abnormal amount of anxiety? Are you having trouble keeping your anxious thoughts and fears at bay? Maybe your anxiety is manifesting in your body and causing tension headaches, stressed and sore muscles, and exhaustion.
Anxiety is a real physical and emotional event that normally occurs in all of our lives from time to time. We experience anxiety when life throws us curve balls and becomes a lot more stressful. However, for some people, anxiety manifests into a debilitating sense of panic that is hard to overcome on your own. A foreboding sense of worry and fear can make it hard to navigate life in relatively normal situations.
There are different types of anxiety disorders including:
generalized anxiety disorder
social anxiety disorder (social phobia)
specific phobias
separation anxiety disorder
Regardless of the type of anxiety you experience, it is hard and can leave you feeling exhausted and down.
If you have been feeling overly anxious lately due to events you can identify or are looking for ways to manage your anxiety disorder in a gentle, relaxing way, the good news is that massage therapy can really help.
Maybe you know someone who is going through a particular tough time and is experiencing anxiety and fear. You could gently suggest that a massage could provide rest, relaxation, and relief from their troubles so they can recharge and be in a better place physically and mentally to face them.
Maybe you or someone you know has been struggling to keep their anxiety in check and is having a hard time remaining calm and free from fear. It truly can be exhausting.
How Massage Can Help with Anxiety
The Mayo Clinic reports a 60-minute massage can lower cortisol, the stress hormone, by up to 30 percent after just one session. Stress is a huge part of anxiety and lowering stress is the key to managing anxiety.
Several different types of massage are effective in relieving stress and anxiety. However, we recommend the following: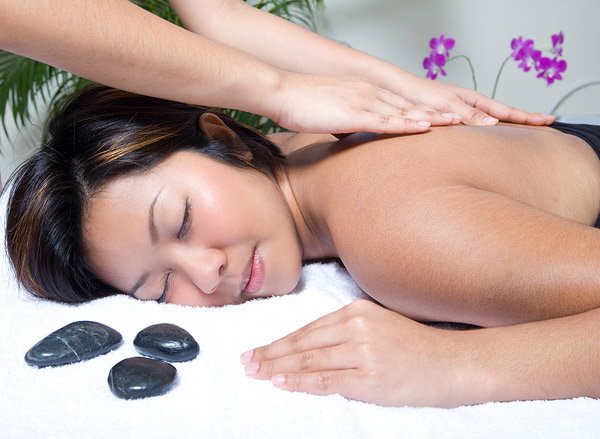 Relaxation Massage
A relaxation massage is exactly what is sounds like. The goal is to create an atmosphere of serene relaxation using gentle massage techniques. It can also include low lighting, soft music, and aromatherapy such as lavender to promote calm. Relaxation massage does not include deep tissue muscle work that could be uncomfortable and is used more for rehabilitation on sore or injured areas.
A relaxation massage will leave the client feeling rested, calm, and at peace. It promotes good sleep and can have lasting effects for hours or days.
Reflexology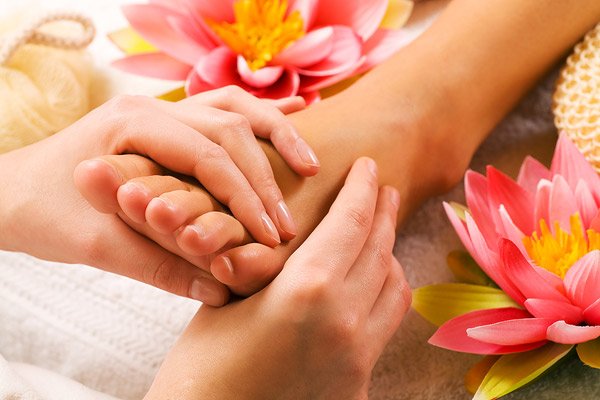 Reflexology is the practice of using reflex points on the hands, feet, and the head that are linked to every portion of the body. Reflexology relieves tension, treats illnesses, and enhances general well-being. For some patients experiencing anxiety, a full-body massage may not be exactly what they want because they may be unable to fully relax into the treatment. In these cases, reflexology can be just as soothing. The massage therapist concentrates on massing just the hands and feet and sometimes the head. The patient can remain clothed and in a reclined seating position.
Because reflexology concentrates on many points on the hands and feet that correlate to other parts of the body, the patient often feels as though they have had a full body massage and enjoys the same relaxation benefits.
How to Get Started with Massage for Anxiety
It is important to find a massage therapist who is knowledgeable in relaxation techniques and is aware and sensitive to acute anxiety and anxiety disorders. It is also important that the massage studio atmosphere is welcoming, calm, and comfortable. Nothing about the experience should trigger more anxiety.
You can help the massage therapist by explaining your goals for the massage and informing him or her of your anxiety. In addition to the massage, the therapist may offer additional advice on stretches, relaxation techniques, breathing exercises, and other helpful tips on ways to reduce anxiety.
Bilky, the owner of All Body Kneads, is a skilled massage therapist with experience in working with many patients with anxiety and the symptoms that it produces. Her quiet, calm demeanor and peaceful studio will help you to relax and will provide relief from your worried mind and tense body.
If you would like to talk more about massage and anxiety or would like to book an appointment for yourself or someone you know please call Bilky at 517-898-2899 or you can email at [email protected] .