Chronic pain is debilitating. It makes your tired. It is harder to cope with normal everyday activities and obligations. It affects you mentally as well as physically.
If you are living with chronic pain than you have likely tried many ways to get some relief. Are they working?
What is chronic pain?
The Institute for Chronic Pain defines chronic pain as pain that lasts longer than 6 months. It does not differentiate from how the pain started or where the pain is located. Pain is pain and it HURTS!
One minute or one hour in pain is awful. Six months of pain is way too long. However, we know that many people deal with pain for a lot longer than that. For years even. One day is too long. Six months or longer can feel like torture.
How can massage help with chronic pain?
If massage therapy can help relieve pain for even a few minutes, it's worth it. Just ask someone who suffers from chronic pain. More often it provides longer lasting relief as well. Massage therapy is often prescribed as a regular, non-evasive, non-addictive pain management tool.
Besides the pain itself, as if that wasn't enough, chronic pain can cause other symptoms like loss of sleep, elevated levels of stress, depression, and anxiety. These issues, coupled with the pain, create a vicious cycle of pain for those who suffer with the problem.
People who are dealing with chronic fatigue syndrome and/or fibromyalgia also experience levels of chronic pain.
Here are some key ways massage therapy can help: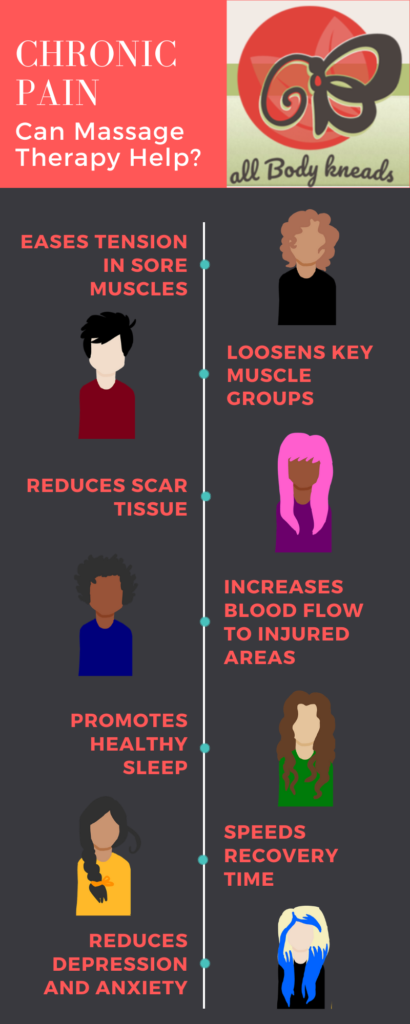 eases tension in sore muscles
loosens key muscle groups that may be overworked or compensating for injuries
reduces scar tissue
increases blood flow to injured areas, promoting faster healing
speeds recovery time after surgery
promotes healthy sleep
reduces depression and anxiety
relaxes the mind as well as the body
Are you suffering from chronic pain?
You have dealt with it long enough. Talk to your primary care doctor or pain management specialist about massage therapy. As professional massage therapists we will consult with you thoroughly before your massage about your symptoms. We will work to alleviate pain while avoiding aggravating any issues. We want to understand your unique pain situation before we provide massage therapy.
We will tailor approach to your specific condition. We will ask if you have had any recent flare-ups, what triggers them (if known), surgeries and history of illness and injury.
We will communication with you often during treatment to insure the techniques and amount of pressure is suitable.
Are you ready to feel better?
Of course you are! We cannot guarantee that you will be pain free as a result of massage therapy. However, our expert knowledge of anatomy and vast array of massage techniques will hopefully offer you relief and help on your continued journey to a pain free life.
Please call All Body Kneads today and schedule your appointment for a Massage. Feel better soon!
517-898-2899 or schedule online.