Are you looking for a simple, yet powerful and effective relaxation technique that can give you improved energy levels, reduce muscular tension and stiffness, improve circulation and even help alleviate minor pain? If so, then gua sha (pronounced gwah-shaw) massage may be right for you!
What is Gua Sha massage?
Gua sha is an ancient healing therapy that has been practiced in Chinese medicine for thousands of years. Potential health benefits may include reducing inflammation and helping with chronic pain. Gua sha massage involves rolling or scraping a smooth "healing" stone across the skin. You may apply massage oil before using the tool to help it glide more smoothly.
What Do Gua Sha Techniques Look Like
During a gua sha massage, the massage therapist will use a gua sha tool to gently scrape your skin in a downward motion to stimulate soft tissue circulation and boost blood flow.
A gua sha massage tool is typically a smooth-edged, almost heart-shaped stone made from jade or amethyst. Jade is thought to be an ideal stone for gua sha since practitioners believe it has a chi energy that's similar to the human body and may contain balancing properties. Other common gua sha stones include Bian stone, rose quartz, amethyst, and aventurine. Sometimes medical-grade stainless steel is used by a technician instead of stone. In ancient times, a spoon or coin was also used for gua sha.
Gua sha techniques are typically done on the:
back
butt
neck
arms
legs
A gentler version is sometimes done on the face, too
Does Gua Sha Massage Hurt?
Similar to cupping, it's sometimes done forcefully enough that it creates red marks or bruising. However, your massage therapist will ask you about pressure and your comfort level.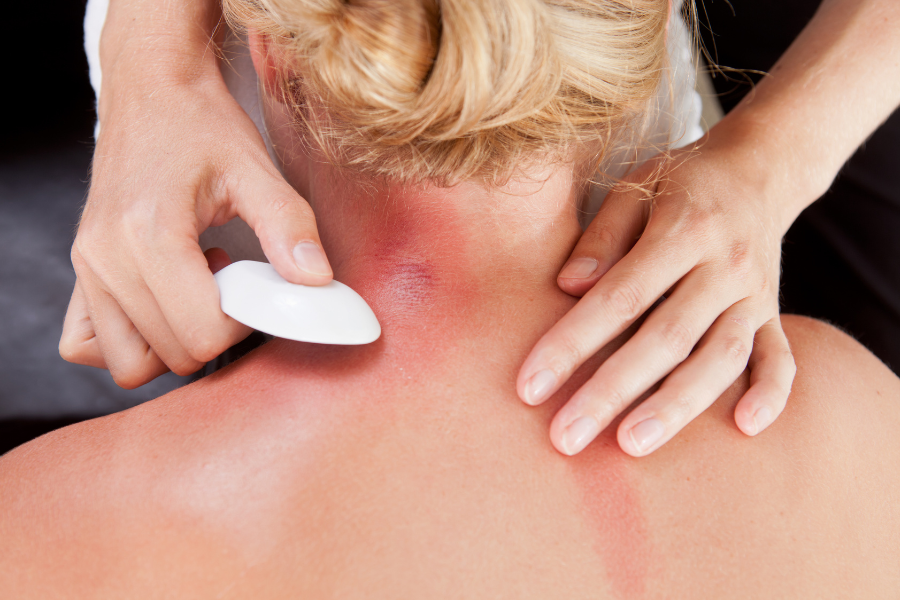 Benefits of Gua Sha Massage
May reduce inflammation
Inflammation is the cause of most pain in the body. Like other forms of massage, gua sha may promote blood circulation and reduce inflammation, which can help with fibromyalgia, arthritis, and back pain.
May ease headaches
Some patients who have received gua sha massage have noted relief from headaches. Check out this 2007 case study, of a 72-year-old woman with chronic headaches who received gua sha massages for 2 weeks. Her symptoms improved, leading researchers to believe that the massage technique may have helped.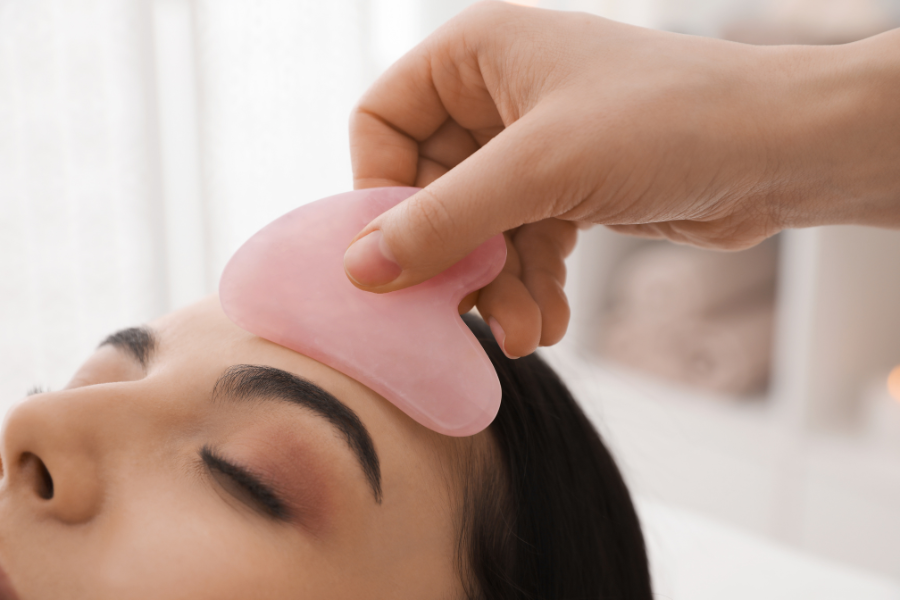 May reduce pain
Massage in general has been known to help with pain and gua sha targets specific areas of pain. Check out a 2014 study where 60 regular computer users reported that gua sha improved their range of movement and reduced neck and shoulder pain. Another 2011 study of 48 patients with neck pain found that those who received gua sha treatment reported reduced pain compared to those who were treated with heating pads.
May soothe breast engorgement
Many women who are breastfeeding experience engorgement, an uncomfy and potentially painful condition where the breasts become extremely full of milk. Historically, gua sha massage has been used to alleviate pain associated with engorged breasts and may prevent mastitis.
Other Benefits
Patients have also reported that massage in general, and gua sha massage in particular have helped with insomnia, irregular periods, anxiety, and fatigue.
Where can you find a qualified Gua Sha massage therapist?
It is important that you always see a licensed and experienced massage therapist. Especially when you are seeking a therapist who is skilled in a particular massage technique. Because of the tools and pressure required for gua sha, it is imperative that a massage therapist has the correct training.
Bilky Joda-Miller, the owner of All Body Kneads, is a skilled practitioner of gua sha massage. If you are curious about the technique, you can schedule it as an add-on to a regular 60 or 90-minute massage to try it out.
For more information or to schedule a consultation, call 517-898-2899 or book online.
We look forward to helping you feel better and have a more pain-free lifestyle.