Add Sports Massage to Your Workout Schedule
Athletes are recognizing that regular therapeutic sports massage should be a part of all training and regular workout routines. Why?
When an athlete receives a sports massage (deep-tissue therapeutic massage) it improves the general wear and tear and minor injuries that naturally occur with strenuous movement. The physiological and psychological benefits of massage make it an ideal complement to a total conditioning program.
Who can benefit from sport massage?
Anyone who routinely stretches the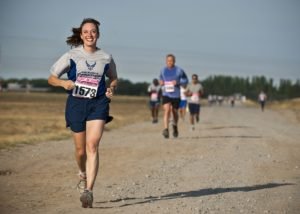 ir physical limits through movement such as:
running
cycling
hiking
swimming
dancing
tennis and other racquet sports
strength training
aerobics
team sports such as basketball, baseball, softball, volleyball, soccer, etc.
In fact, sometimes the season of life w
e are in or the job we have also requires a lot of physical movement. Other people who can benefit from massage include:
have small children and do a lot of lifting
gardeners and those who work in their yard a lot
factory workers
service workers
Sports Massage is a Healthy Reward
Sports massage is beneficial when starting a conditioning program, because it helps you get into good shape faster, and with less stiffness and soreness. It helps you recover faster from heavy workouts, and relieves conditions which may cause injury.
Sports massage can also be something you look forward to after a work out — a healthy reward!
How Sports Massage Can Help
Recovery
Sports massage helps the body recover from the stresses of strenuous exercise and facilitates the rebuilding phase of conditioning. The physiological benefits of sports massage (and massage in general) include:
improved blood and lymph circulation
muscle relaxation
general relaxation
removal of waste products and better cell nutrition
normalization and greater elasticity of tissues
deactivation of trigger points
faster healing of injuries
In addition to these benefits, therapeutic massage may also focus on specific muscles used in a sport or fitness activity. For example, the legs for runners, upper body for swimmers, and arms for tennis players. These areas are more likely to be tight, lose flexibility, and develop trigger points.
Overtraining
Sometimes athletes do not allow themselves adequate recovery time, especially if they are training for an upcoming event. This can lead to higher rates of injury and fatigue.
You may be overtraining if you experience:
irritability
apathy
altered appetite
increased frequency of injury
increased resting heart rate
insomnia
These things can occur when the body is not allowed to recover adequately between training.
Sports massage can help you avoid overtraining by promoting recovery through general relaxation and healing properties.
Trouble Spots
Every athlete and active person has their own trouble spots. Sometimes this is from past injuries, repetitive motion or a particular activity. A massage therapist can pay extra attention to these areas while monitoring them for developing problems or improvement. An experienced massage therapist can also compliment any treatment you are receiving from other health care professions such as chiropractors, acupuncturists, medical doctors, trainers, and physical therapists.
Making the Most of Your Sports Massage
In order to maximize the benefit of sports massage, here are some tips:
Schedule your sports massage (30 minutes to 90 minute massage) for after your workout or on rest day.
Cool down completely after your workout before getting a massage.
Take a shower, sauna, steam bath, or Jacuzzi before your sports massage. This will give you a jump start on relaxation.
Communicate with your massage therapist about your recent activity, injuries, or upcoming events so she or he can customize the massage.
Be sure to inform the massage therapist about painful areas.
Be as diligent with your massage schedule as you are with your training. Regular sports massage means once a week to once a month.
Call All Body Kneads today to schedule your sports massage.
---
References:
Therapeutic Massage for Sports and Fitness by Patricia J. Benjamin, PhD.
Robert K. King. Performance Massage; Muscle Care for Physically Active People. Champaign, IL: Human Kinetics Publishers, 1993
Bonnie Prudden. Myotherapy: Complete Guide to Pain-Free Living. New York: Ballentine Books, 1984.
Frances M. Tappan and Patricia J. Benjamin, PhD. Tappan's Handbook of Healing Massage Techniques: Classic Holistic, and Emerging Methods. San Mateo, CA: Appleton & Lange, 1998.